When you're renting your living space, DIY is hardly ever an option – unless you want to upset your landlord and lose your deposit. Your choice. Does that mean you should live in a plain and boring space just because you don't actually own it? Double no!
When renting a flat or house, the existing deco isn't always … of good taste. Or of your taste anyways. You've probably seen everything from sad white walls and neutral, almost medical interiors, straight down to a granny extravagance of flowery wallpaper and aging sofas. Most the time, you won't be allowed to touch the walls.
This is where your cleverness and imagination come in! Just because you're renting doesn't mean you can't make the place your own. After all, you probably spend a lot of time in there, whether it be relaxing over a lazy weekend or spending a quality evening with your significant other, so it's important you feel comfortable and at home. Here are a few tips and tricks to decorate your rented space to your liking…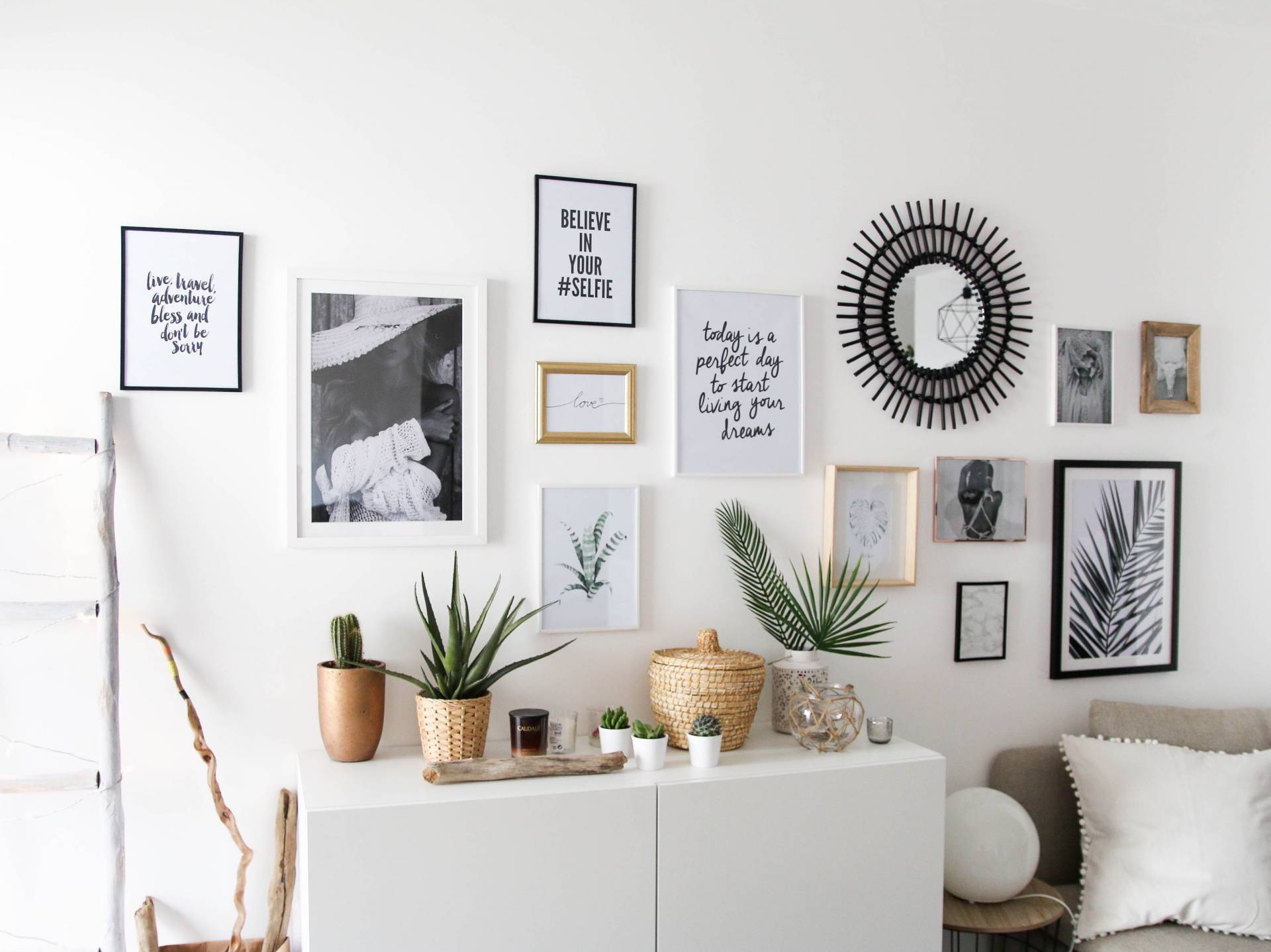 Hang some frames and paintings… without any nails
There's no easier way to personalise a space than to give a bit of life to your walls by hanging pictures, paintings or other framed art. You'll need to get around that nasty line in your contract that says you can't put holes in the walls, so get your hands on double sided tape or strips. You can find some that support frames up to 7 kg.
Don't forget, you can also put the top of your bookcases, dressers and chimneys to work – they're nice supports for your paintings. For super large paintings or photos, just lay them on the floor for a completely intentional "designer" touch.
Play around with repositionable wallpaper
You could completely up your deco game without any paint or glue. Just use repositionable wallpaper: while it may be much more expensive than regular wallpaper, your goal won't be to cover an entire room. Usually, 2 or 3 strips will be enough to transform the atmosphere in the room.
Putting it up is easy, all you have to do is remove the protective paper on the back, and lay the wallpaper from top to bottom, scraping out air bubbles as you go. Repositionable wallpaper will last about ten years on the walls, and you'll find many different designs online.
Kitchen makeover time
Have you ever seen a kitchen that is so run down – or just plain ugly – it makes you want to avoid cooking at all costs? Do you have one of those? Breathe a second life into your kitchen by investing in adhesive tiles! Fake cement, waxed concrete effect or plain wood, there's plenty to choose from.
For your cupboards look for adhesive cupboards, which can be cut to fit (try a plain colour, a world map print or a material effect) to give your kitchen fixings a whole new look!
Put a partition up
You could add a whole new design element without making any holes or damages. Try your local home & DIY store for large movable panels, such as an industrial style class panel, or an oriental inspired bamboo panel. Place them in the bedroom, entrance or living room to create a focal point, and in the process create a new mini space-within-a-space. Ideal if you have one spacious room you'd like to divide a bit.